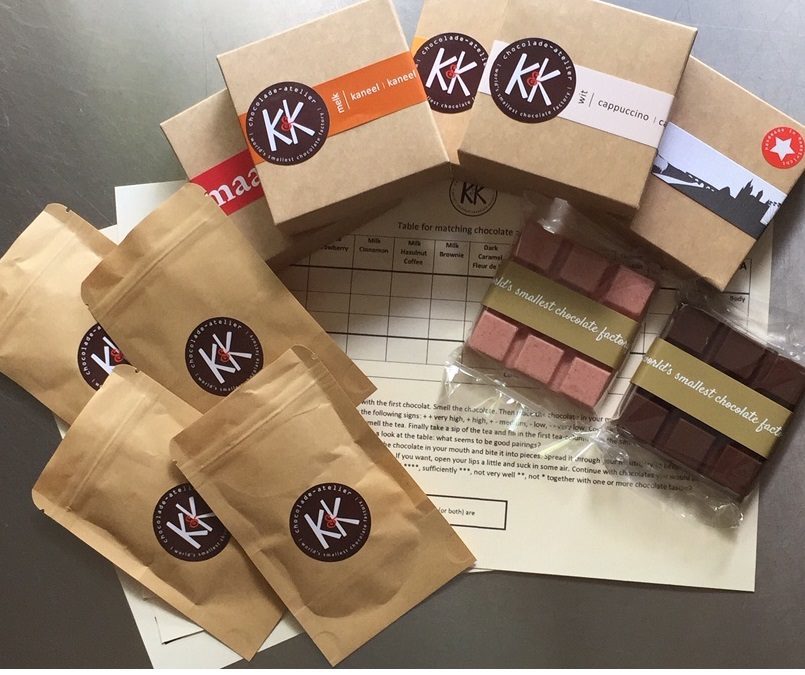 Chocolate & Tea online workshop
Do you love chocolate, tea or both? Wherever you are in the world: this is the workshop for you! An online workshop which you can do just at home.
In this workshop you will discover your individual best chocolate and tea match(es). Supported by a systematic approach, explanations and exercises, you will be trained in matching chocolate and tea. Furthermore you will learn all kind of aspects concerning tea like producing areas, different tea styles and flavour characteristics. The workshop will last around two hours.
You will be tasting 7 different chocolate bars and 4 different teas which I will send to you in advance (in a package). I will also send you matching tables which will be used as a tool when matching the chocolate and tea.
For the workshop we will use Zoom. You don't need an account for that. I will send you a link which will give you access to the digital platform in which we will do the workshop.
The price is:
125 (the Netherlands) 130 (European Union) 150 (rest of the world) euros with 1 to 4 persons (workshop + 1 package).
155 (the Netherlands) 160 (European Union) 180 (rest of the world) euros with 5 to 8 persons (workshop + 2 packages).

Prices are one (for up to 4 persons) or two (5 until 8 persons) workshop-packages and 21% vat inclusive. The participants could be at different addresses. In this case extra workshop-packages will be sent to the other addresses. The costs for an extra package is 30 euros for the Netherlands, 35 euros inside the EU and 55 euros outside the EU (shipping costs included). We only take reservations for whole workshops, so preferable there's one person who will be the point of contact. A reservation inside the EU must be at least two weeks in advance, a reservation outside the EU must be at least four weeks in advance (this has to do with postal services).
The workshop will be given every Thursday, Friday, Saturday or Sunday. We will have a look which time of the day is most suitable depending on where you live. If you think of another date please let us know at the same email address: this depends on our chocolate making planning.
For more information about who we are and what we do please take a look here.
Sign up for the workshop or ask a question at: info@kk-chocoladeatelier.nl
You will get a response as soon as possible.
Hope to see you soon!
Dieser Online-Workshop wird auch auf Deutsch angeboten. Bei dieser deutschsprachige Workshop sind alle Begleitende Materialien und Videos auf Englisch.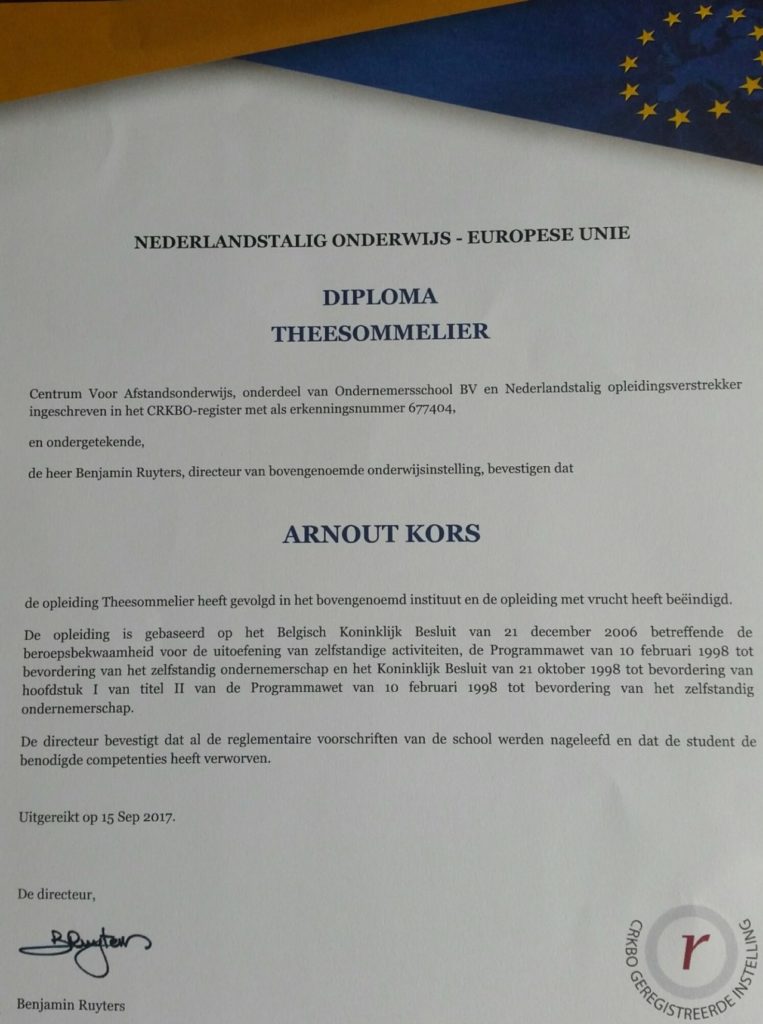 Chocolade & thee online workshop
Hou je van chocolade, van thee of beide, dan is dit een heerlijke workshop die je vanuit je huis kan doen!
Voor de workshop stuur ik je zeven soorten chocolade, vier soorten thee en chocolade en thee matchingformulieren (het workshop-pakket).
Met uitleg en opdrachten, ga je ontdekken welke chocolade en thee matches je het lekkerst vindt. Daarnaast leer je spelenderwijs over allerlei aspecten rondom thee zoals de soorten thee, de gebieden en smaakkenmerken. De workshop duurt ongeveer twee uur.
We doen de workshop via Zoom. Je hoeft daarvoor geen account te hebben. Ik stuur je een link die je toegang geeft tot de digitale omgeving die we voor de workshop zullen gebruiken.
De prijs is:
125 (Nederland) 130 (EU) 150 (rest van de wereld) euro met 1 tot 4 personen (workshop + 1 pakket).
155 (Nederland) 160 (EU) 180 (rest van de wereld) euro met 5 tot 8 personen (workshop + 2 pakketten).

Prijzen zijn inclusief levering van één (tot 4 personen) of twee (5 t/m 8 personen) workshop-pakketten en inclusief 21% btw. De deelnemers kunnen zich ook op meerdere adressen bevinden, in dat geval worden extra workshoppakketten naar de andere adressen gezonden waarvoor de kosten 30 euro per stuk zijn (inclusief verzendkosten en btw). We nemen alleen hele workshops aan en staan daarbij graag in verbinding met één contactpersoon. Reservering is minimaal 1 week van te voren om de post tijd te geven het pakket te bezorgen.
De workshops worden op donderdag, vrijdag, zaterdag en zondag gegeven en beginnen om 15.30.
Daarnaast is er de mogelijkheid een afspraak te maken op een ander tijdstip afhankelijk van de productieplanning (je kunt via het zelfde emailadres hiernaar informeren).
Geef je op of stel je vraag via emailadres: info@kk-chocoladeatelier.nl Je krijgt dan zo spoedig mogelijk een berichtje van ons. Hopelijk tot ziens!
Dieser Online-Workshop wird auch auf Deutsch angeboten. Bei dieser deutschsprachige Workshop sind alle Begleitende Materialien und Videos auf Englisch.