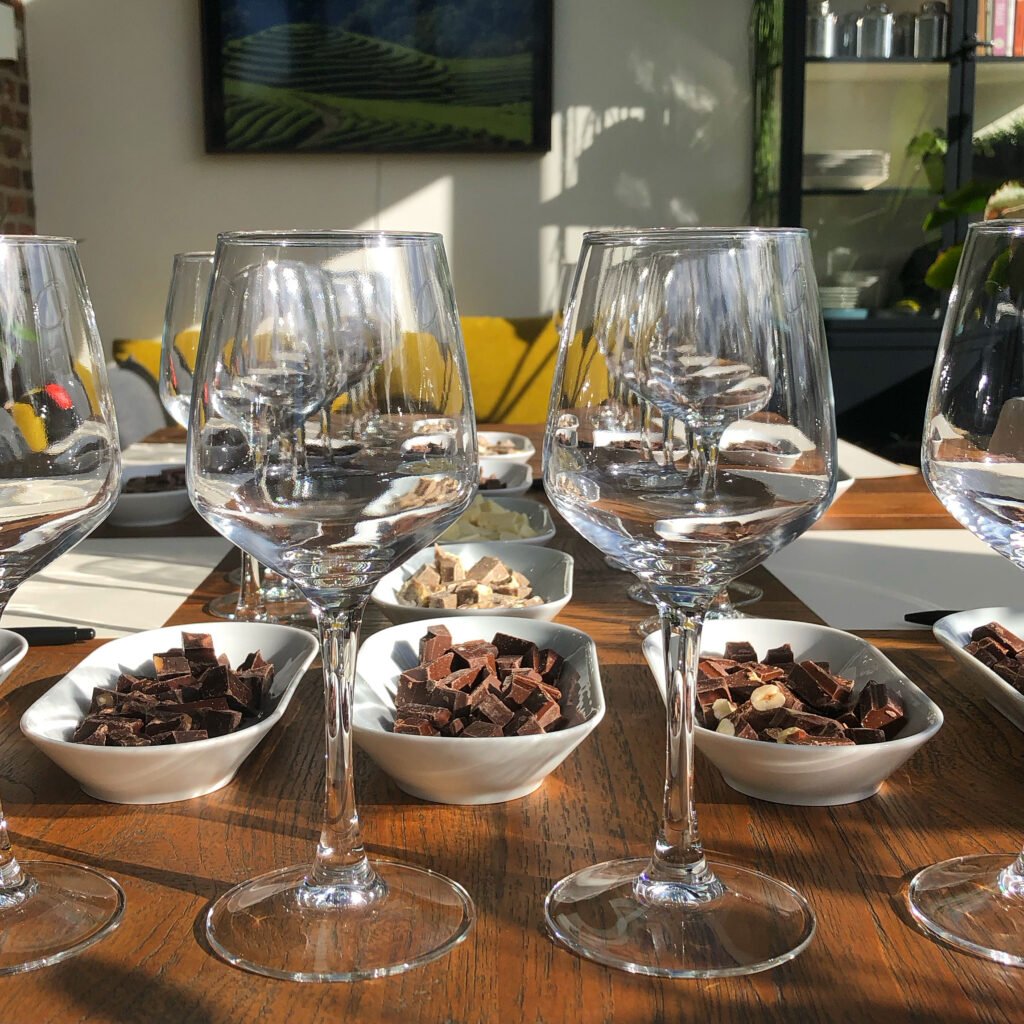 Chocolate & Tea workshop
Do you love chocolate, tea or both? Then this is the workshop for you!
In this workshop you will discover your individual favorite chocolate and tea match(es). Supported by a systematic approach, explanations and exercises, you will be trained in matching chocolate and tea.

You will taste five carefully selected teas and seven types of chocolate together. All chocolate is hand made by K&K.
There will be plenty of different pairings to choose from which will give you the possibility to shape your personal opinion about matching chocolate and tea.
Because tea can also be combined with all kind of other foods this will furthermore give you the base for matching tea with your daily meal. Besides this, you will learn about aspects concerning tea like different tea styles, ways to make tea, producing areas and flavor characteristics.

The workshop practically equals a private lesson as the number of participants per workshop is 2 to 6.
The workshop will be hold in our sunroom and lasts two hours. At the end of the workshop you will receive our leaflet with a summary of the information about matching chocolate and tea.
The price of the workshop is 30 € per person with a group of 6,
32 € per person with a group of 5,
35 € per person with a group of 4,
42,50 € per person with a group of 3 and
62,50 € per person for just the two of you.
Prices are VAT inclusive (21%).
You can pay after the workshop with for instance a PayPal request or an invoice.
The workshop will be given every Thursday, Friday, Saturday or Sunday at 15:00 and Friday or Saturday also at 20:15.
If you think of another date or time please let us know at the same email address: this depends on our chocolate production planning.
Sign up or
ask a question at:
info@kk-chocoladeatelier.nl

You will get a response as soon as possible.
Hope to see you soon!
Dieser Workshop wird auch auf Deutsch angeboten. Bei dieser deutschsprachige Workshop sind nur teilweise die Begleitende Materialien und Videos auf Englisch.
Hier können Sie sich zum Workshop Schokolade und Tee anmelden
oder eine Frage stellen:
info@kk-chocoladeatelier.nl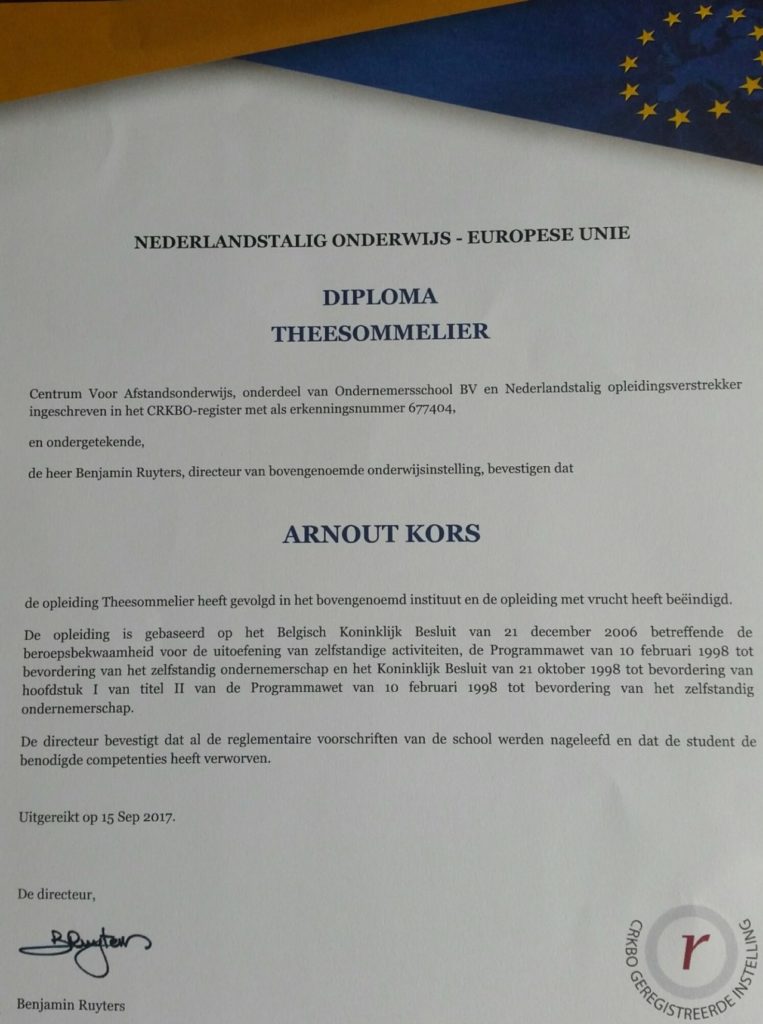 Chocolade & thee workshop
Hou je van chocolade, van thee of beide, dan is dit een heerlijke workshop voor je!
Met uitleg en opdrachten, ga je ontdekken welke combinaties van chocolade en thee je het lekkerst vindt.
We gaan daarbij vijf geselecteerde theeën en zeven verschillende soorten chocolade samen proeven. Alle chocolade is handgemaakt door K&K.
Je zult in de gelegenheid zijn veel verschillende combinaties te proeven zodat je je een persoonlijke mening kan vormen over het matchen van chocolade en thee.
Omdat je thee ook bij de (hoofd)maaltijd kunt drinken krijg je eveneens een goede indruk hoe je food en thee het beste kunt combineren. Daarnaast leer je spelenderwijs over allerlei aspecten rondom thee zoals soorten thee, manieren om thee te zetten, de gebieden van productie en smaakkenmerken.

De workshop wordt in kleine groepen gegeven (2 tot 6 personen) waardoor het de kwaliteit van een privé les heeft.
De workshop duurt ongeveer twee uur en wordt gehouden in onze serre-theekamer. Aan het eind krijg je ons vouwblad met de informatie over het combineren van chocolade en thee.
De prijs voor een workshop is 30 € per persoon met een groep van 6 participanten,
32 € per persoon met een groep van 5,
35 € per persoon met een groep van 4,
42,50 € per person met een groep van 3 en
62,50 € per persoon met z'n tweeën.
Prijzen zijn inclusief btw (21%).
Na de workshop kan worden betaald met bijvoorbeeld een toegezonden betalingsverzoek.
De workshops worden gegeven op donderdag, vrijdag, zaterdag en zondag en beginnen om 15.00 en vrijdag en zaterdag ook om 20.15.
Daarnaast is er de mogelijkheid een afspraak te maken op een andere dag of tijdstip afhankelijk van de productieplanning (je kunt via het zelfde emailadres hiernaar informeren).
Ook is het mogelijk de workshop op jouw locatie te geven (onder een aantal voorwaarden), wat vooral geschikt is voor een groep van meer dan 6 personen. De prijs is afhankelijk van reistijd en hoeveelheid personen. Je kunt op onderstaande adres meer informatie opvragen of een voorstel doen.
Meld je hier aan
of stel een vraag:
info@kk-chocoladeatelier.nl
Je krijgt dan zo spoedig mogelijk een berichtje van ons.
Hopelijk tot snel!


Dieser Workshop wird auch auf Deutsch angeboten. Bei dieser deutschsprachige Workshop sind nur teilweise die Begleitende Materialien und Videos auf Englisch.
Hier können Sie sich zum Workshop Schokolade und Tee anmelden
oder eine Frage stellen:
info@kk-chocoladeatelier.nl